This bobber was customized from a Harley base. We like the apes, the wheel spokes and the color of the bike. Pretty neat.
It could be fitted with a couple of leather saddlebags and better controls like the Kuryakyn grips and pegs.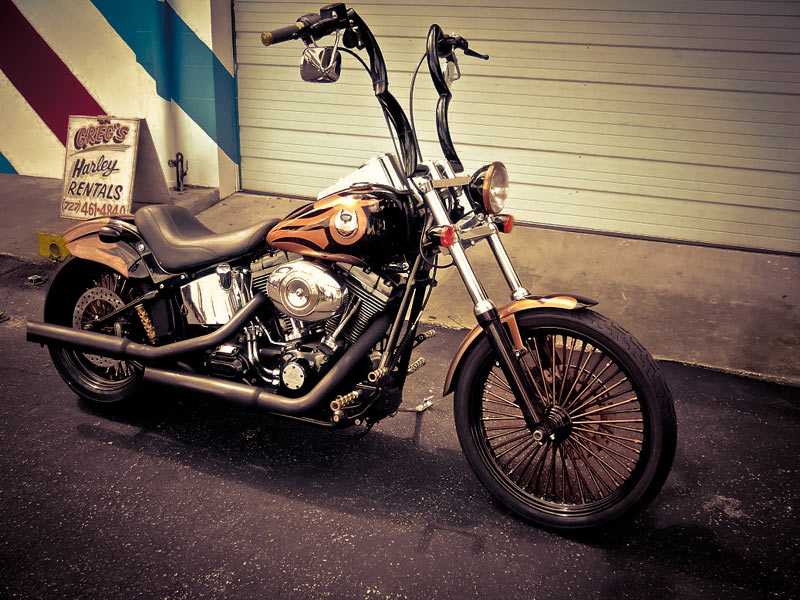 SAFETY RECOMMENDATIONS: WEAR CORRECT MOTORCYCLE GEAR
We always recommend to wear a motorcycle helmet when riding. Riding without a helmet exposes your head to serious traumas even at low-speed accidents. A motorcycle helmet may not protect you well enough in case of a direct shock at 80 mph, but it will do its job keeping your head safe in case of side impact and at lower speeds. It will also protect your head against road abrasion and pebbles in case you slide during a crash. There is no alternative to riding safely, with the proper motorcycle gear on you.
We carry 500+ motorcycle helmets in stock at our Modesto store: modular and full face helmets, open face helmets, thin, ultra thin and novelty.
We also carry a full line of biker leather jackets and textile (ballistic nylon) motorcycle jackets. Ballistic nylon has been proven to protect even better than leathers, but leather and armored leather jackets have also proven to offer an efficient protection against road abrasion in case of crashes with a short sliding distance. Leather also keeps you protected from the sun and the wind, which means you keep hydrated longer when you ride with a leather jacket, compared with riding without leathers. Lastly, leather jackets provide efficient protection against rain and colder weather. If the temperature goes down markedly, liners become necessary. In really cold weather, ballistic nylon jackets (textile jackets) with a polar fleece liner offer best protection against the chill.